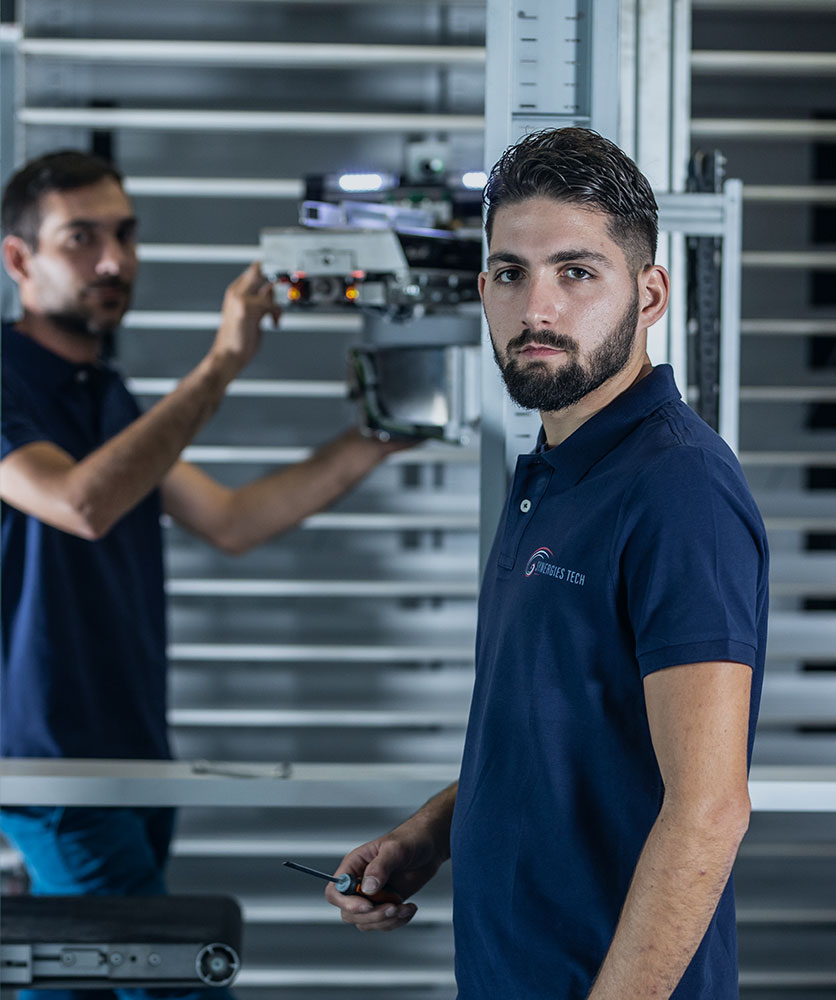 Whatever the reason for installing your machines : new equipment, removal, reorganisation of your plant, merging entities, new installations, our experts offer a full range of services from prior study and advice to installation and training for the user and through to the global management of the process and specific projects : coordination, storage, planning, simulation and carrying out the job.
removals & reinstallations

What do the manufacturers say ?
"The sale of our robots has really taken off in recent years, particularly in France, which has considerably increased our production and, as a result, the number of installations.
We had built up a relationship of trust with Synergies Tech. They had already provided maintenance services for part of our fleet in France for over a year, so, in order to accompany this development while sustaining the high quality of our installations, we decided to entrust them with commissioning as well, as a back-up to our teams who carry out the assembly of the machines. It seemed obvious to us to rely on a trusted partner, a specialist in after-sales services, a team with solid skills and interpersonal qualities. "
Vincent Deltour, Director France MEDITECH

What does our team say ?
" The installation phase is essential and critical. Besides making sure the machine functions correctly, we represent the manufacturer for the end user who expects us to be available, efficient and able to explain. "
Frédéric, Installation technician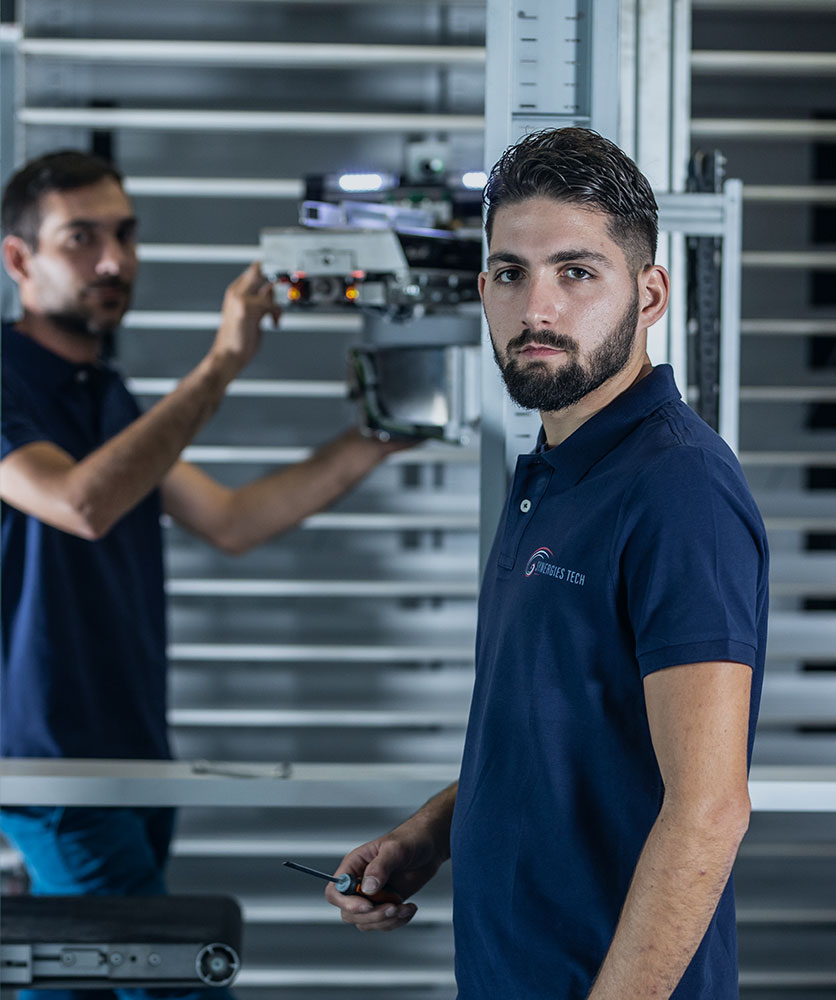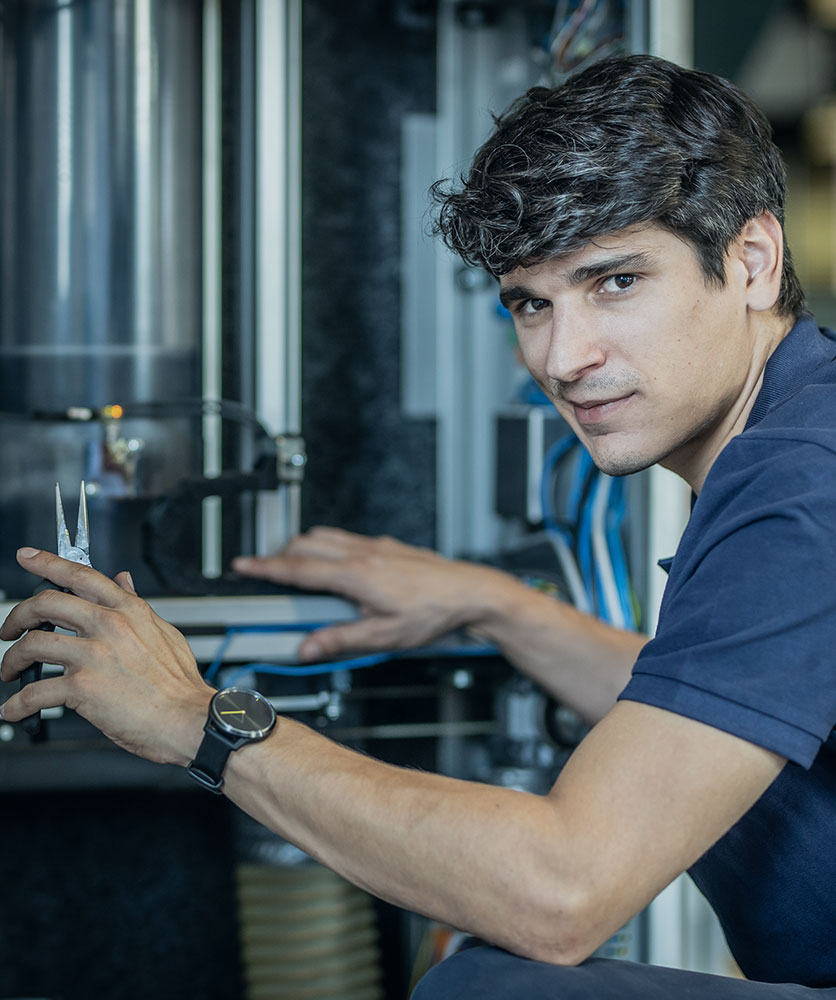 Regular servicing ensures optimum performance and avoids incapacitating break-downs. Our technicians are well versed in prevention: total overhaul of your equipment, detection of wear and tear, adjustment of the installation. We have a permanent stock of spares making it easy to manage replacements. Our workshop is equipped with a test bench to examine, prepare and test the different control blocks for your equipment, to check, mount and repair the electromechanical elements. If the breakdown requires onsite repairs, our regional technicians are there to guarantee a rapid intervention.
100% of our visits were to repair
45% of visits were to repair and 55% were for prevention

What do the manufacturers have to say ?
" We decided to use an external provider for two reasons: firstly to allow us to cover more area as Lisieux is not very central and it is difficult to manage servicing visits in far-flung regions. Secondly, our main job is to design and manufacture machines, we are not an after-sales organisation. Working with someone who specialises in after-sales seemed a good idea. "
Vincent Le Gouic, Chairman of ADIAL

What does the team have to say ?
" We really try to make our machines last as long as possible. Compared to companies who just repair the problem at hand, we're not in the same league. We anticipate and invest in long-term collaborations. "
Quentin, Technician for Southern France
Hotline and tele-maintenance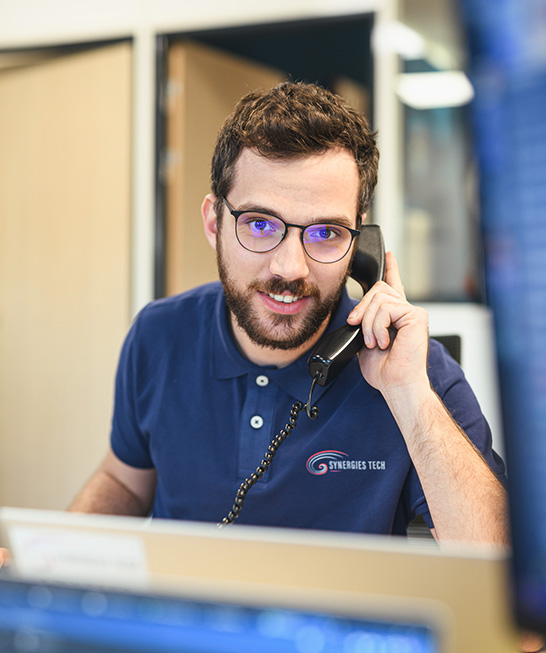 Our telephone operators are available from Monday to Saturday from 8am to 8pm. All our technicians ensure this service and take it in turns to run the hotline. The person who answers your call and finds distance solutions or suggests tele-maintenance knows exactly what you need and understands the stakes for the user. We do everything we can to offer a diagnostic, repair at a distance or put a machine under surveillance if it has random break-downs. Thanks to OPSY, our custom-built ERP, you can follow our interventions on your equipment in real time. You can also log onto your Client or Manufacturer space via our website.
of break-downs are dealt with by telephone
rings before someone picks the phone up

What do the users have to say?
"The Synergies Tech technicians understand my stress, they take it into account. They always do everything possible to get us out of a bad situation! They respond quickly, and when they can't take my call right away, they reassure me by saying 'Madam, I haven't forgotten about you, I'm with a customer and I'll get back to you straight away'. You can feel that they are committed to their mission and that they don't let anyone down! They are charming, polite and I find them very competent."
Nathalie, Shelf assistant, Lyon Centre-ville Pharmacy

What does our team have to say ?
" Having a hotline service means we are better on after-sales services. That's what our job is, and I think we do it really well. Synergies offers hotline services with state-of-the-art tools. We are very reactive when it comes to logistics meaning we don't waste time getting spares to clients. "
William, Technician in the Paris Region of France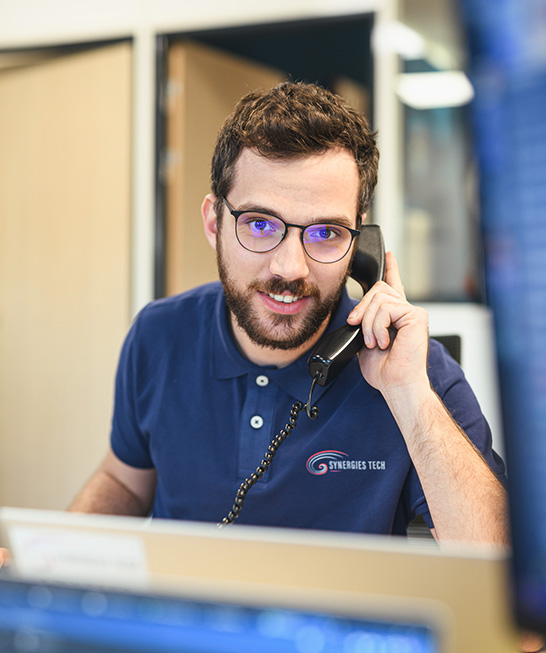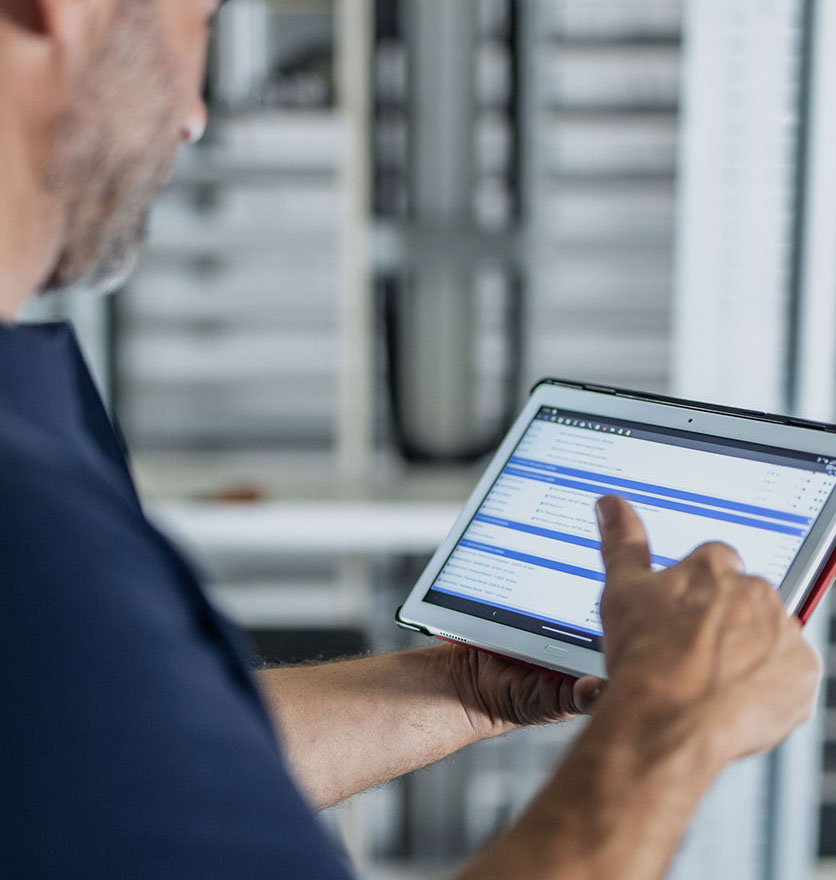 To make the absolute most of your installations, we can talk about your needs during an onsite visit or during a dedicated consultation. Our expert technicians can carry out an audit to check if the configuration, the implantation and the fluxes are optimum and to add options if need be. Each visit is noted in our ERP in real time. Our expertise in analysing the information supplied by our technicians means we can give constructive feedback to the manufacturer's R&D, suggesting technical adjustments through detailed reports and improving the relationship between the manufacturer and the user.
optimisation audits for clients in 2020
reports for manufacturers in 2020

What do our manufacturers have to say ?
" When we present a project to Synergies Tech, they don't just get a tried and tested model off the shelf. They listen, trying to find what we can do to improve our procedures either in our supply chain or with our clients. They can grasp the type of client we have and then help us to move forward thanks to the feedback from their technicians. "
Florian Giuliani, Head of Robotics, DEDALUS

What does our team have to say ?
" We don't just follow orders, we are all capable of reflexion, diagnostic, study and optimisation on any task. We feel implicated and stand by our clients with whom we talk a lot, sharing our mutual experiences to find ways of improving our procedures which our clients can use too. "
Quentin, Tech South of France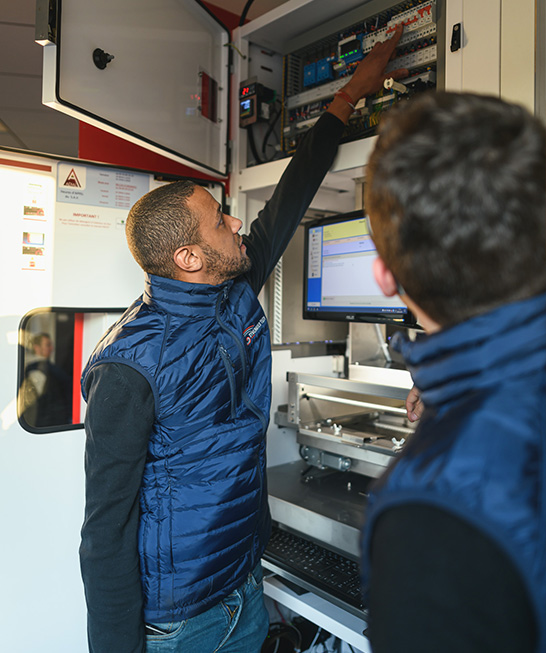 Collaborating closely with the manufacturers and final users, Synergies has lots of know-how to share. Sales force: by training manufacturers' salespeople in our after-sales techniques and other services, we provide them with extra arguments to enhance the image of their product, improve customer loyalty, reassure future clients and increase their sales.
We have two types of training for final users based on techniques and best practices: how to manage the most common break-downs (level 1 user maintenance) and "management" to improve the user's performance to enhance their activity. Our technicians are trained in-house in behavioural techniques with clients (on-site and hotline).
training modules offered by Synergies

What do manufacturers have to say ?
"Synergies Tech ensures the commissioning of our machines in certain parts of France. The training of pharmacy teams in the proper use of our machines must be provided on this occasion. Their technicians are familiar with the uses in pharmacies, the needs of pharmacists and their teams, they master the technical and software aspects and they explain them well. The customer is therefore confident that their machine is installed, it works and they know how to use it. The fact that Synergies Tech is registered as a training organisation is also a guarantee for us."
Vincent Deltour, Director France MEDITECH

What do our teams have to say ?
" Personally, I try to train the clients as best I can so that they can anticipate break-downs. This type of communication leads to good client loyalty, generates confidence and makes the machine more interesting for them because it helps them do their job. "
Florian, Technician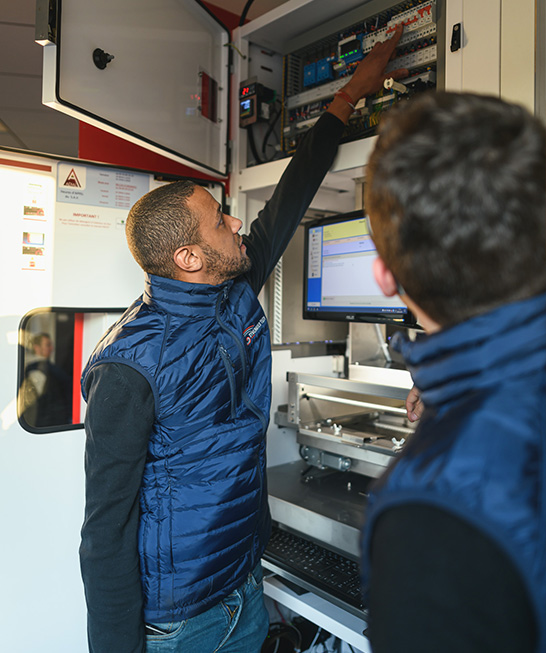 Managing customer relations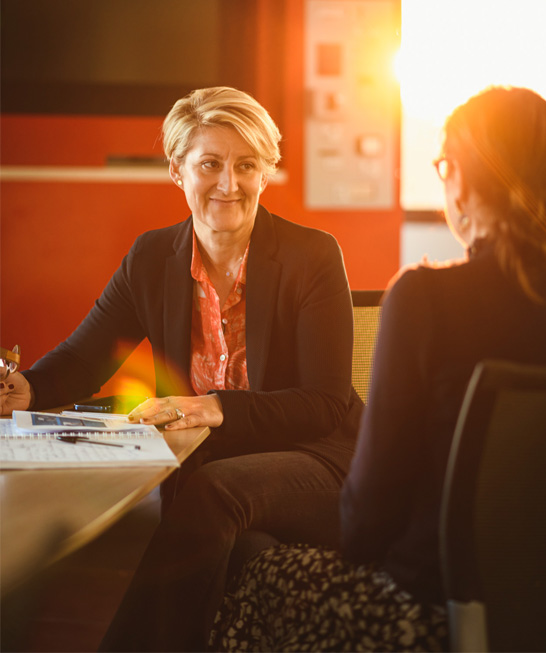 Our answers will be adapted to your needs and the specifics of the machine thanks to:
1. Our A to Z accompanying programme (audit, reflexion, modelling, etc.)
2. Drawing up maintenance contracts adapted to each user
3. Training courses for your sales teams, in our area of expertise, how we do our job and our ethics so that the quality of our services becomes a key selling point.
4. Our OPSY online platform which gives optimum visibility of our interventions on your machines in real time.
connexions to the OPSY client space per day
connexions to the OPSY manufacturer space per day

What do the manufacturers have to say ?
" Our main criteria when it came to making a choice was the seriousness we felt during our first meeting with Synergies. They were able to send out technicians to sectors we can't cover, to give technical information in a timely manner, to grow and evolve at our speed. I don't consider Synergies Tech as a supplier of technicians, but as a partner. Working intelligently, mutually investing in one other. "
Marc DALLA ROVERE, Technical Manager, ADIAL

What do our teams have to say ?
" The technicians always feel concerned about the clients and listen to them carefully. We make sure all our new recruits are briefed about the importance of the excellent relationship we expect them to have with our clients. "
Simon, Director of Operations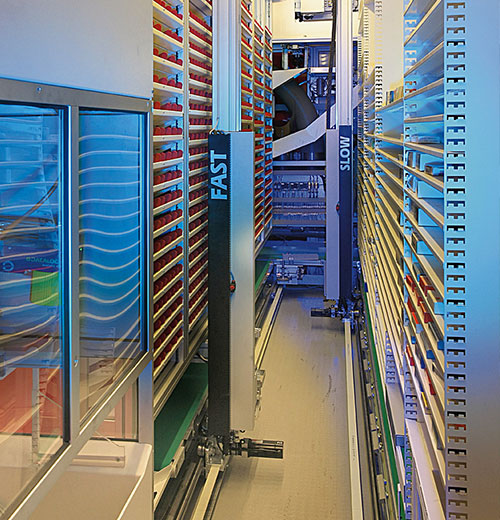 We manage the entire after-sales service for over 400 automatons which manage the stock and delivery of medication in pharmacies; these devices are between 2 and 18 years old.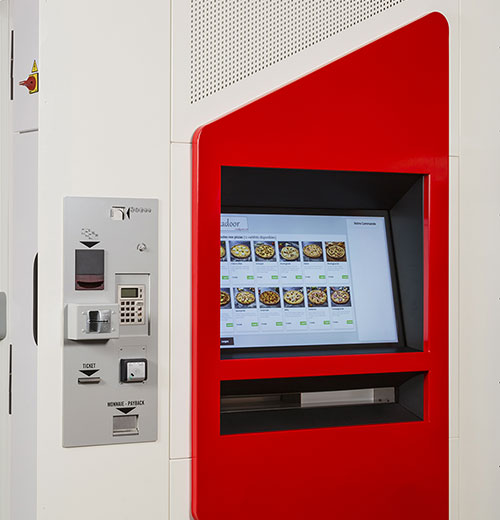 Our teams cover 70% of the French territory to install and service 600 vending machines for freshly-baked pizzas.